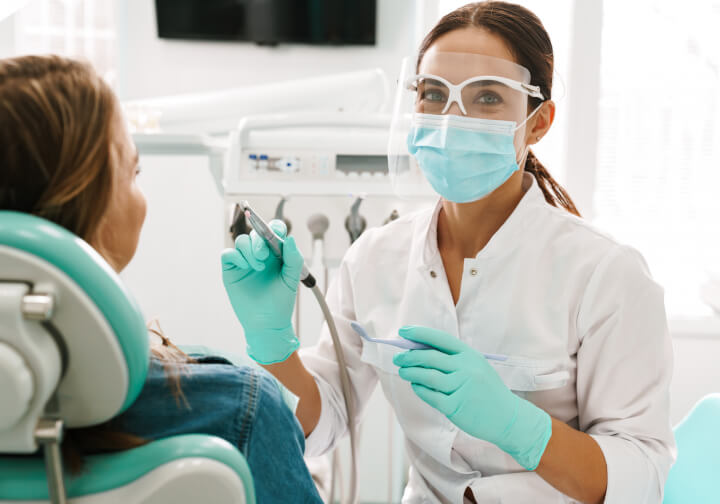 Prevention, restorative dentistry and tooth pain help
Suppose we want high-quality teeth that will last well into old age, without decay, pain and inflammation. In that case, we must visit the dentist regularly for preventive examinations.
We know that many people are afraid of visiting the dentist. We want to change this attitude, which is why we work with top dentists emphasising a considerate, friendly, empathetic approach.
In addition to preventive examinations, we also provide dental emergency service for our patients, and they can come at any time if their teeth bother them. They can also turn to us when they need dental surgery, orthodontics, dental hygiene, teeth whitening or other areas of dental care.
A standard, very unpleasant problem is inflammation of the root canals. So as part of endodontics, we focus on root canal treatment, and we can even save damaged and infected teeth. To secure the highest quality of treatment, our office is equipped with a dental microscope.
If necessary, we also perform dental surgery, which allows us to extract a partially knocked out or impacted tooth, wisdom teeth or, for example, surgical treatment after accidents.
At the clinic, however, we do not only focus on our preventive care and acute procedures. But also on the overall improvement of the condition of the teeth and their beautification. For example, even though people brush their teeth regularly, they can't reach some places with a brush or floss. That is why it is crucial to visit dental hygiene, which is essential for healthy teeth without decay and inflammation.
Whether you have specific teeth problems, want to book a preventive check-up, or want to beautify your smile thanks to dental hygiene, we are here for you. Our doctors always reserve enough time to make you feel as comfortable as possible.